Ever heard the saying: "Practice makes perfect"?
Well, it's not entirely true.
'Cause when it comes to vertical jump training, it's not about practicing the hardest…
…it's about practicing the most efficient.
Believe it or not, every pro baller nowadays has a strategic training plan specifically dedicated to increasing/maintaining his vertical.
Why?
Because the game simply demands it.
Think about it…
If you can't jump when jumping is necessary, how will you be able to drive/finish/defend/rebound or any other thing that winners do for that matter?!
So you see…
You need to dedicate time to building your vertical so that when you're on court, you're ready to jump anytime, anywhere.
For that reason, I've put together a rundown of what I believe to be the best vertical jump programs to get you up in 2023.
Without boring you too much, let's cut straight to the chase and go right to the meat and potatoes.
The 5 Best Vertical Jump Programs of 2023 [Basketball + Volleyball]
#1 Vert Shock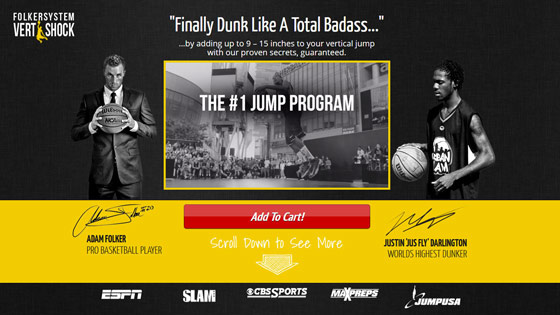 Pros
100% bodyweight – no gym & no equipment required.
Super easy to use.
Short duration and short workouts.
Excellent for beginners to intermediate athletes.
Fast results.
Cons
Lack of background knowledge.
Too intense for old athletes.
Not suitable for those recovering from an injury.
Man, this was a tough pick…
…but the top spot and my #1 pick as the best overall jump program goes to Vert Shock, the famous program by Adam Folker.
Hands down, this program is really the best and most efficient jump training program I've ever trained with.
Of all the vertical jump programs I've tried, Vert Shock was the fastest one.
It's surprisingly shocking considering how simplistic it is in its approach.
And yet, it has raised the bar to a new level and changed the way most people train their vertical leap.
It works by using "Shock Training" to extract more force from your muscles.
The idea is to shock your nervous system and make rapid gains by activating the type-2 fibers (fast-twitch muscle fibers) to fire extremely fast.
Have a look…
At first, this might seem odd as the program relies ENTIRELY on plyometrics…
But the results with Vert Shock speak for themselves…
People all over the world report gains of up to 15 inches with it…
And it's got loads of good reviews by newborn dunkers to back it.
In my case?
Vert Shock has shot my vertical to 39.5 inches (previous record was 37″), and it did so faster than any other program.
So yes, the system works!
But more importantly…
IT WORKS FAST!
When you purchase Vert Shock, you get access to a members area where you can log in from any device…
That way, you can take it with you on your mobile/tablet and view all the workouts from wherever you need.
The members area also includes other useful tools like a vert tracker, a diet checklist, and some awesome hacks & tricks on technique.
You even get access to a forum where you can interact with other athletes, ask questions, and see how others are doing with their training.
But these are all just extras and not the main reason why you'd want to get this program.
The real magic of Vert Shock lies in its workouts.
And let me tell you right now, they're not easy.
You'll be training 4-6 days a week and the intensity stays high throughout the whole course.
However, the hard work pays off quickly because you see results FAST.
How so?
The program was designed with the help of professional dunker Justin Jus Fly Darlington, who has spent years assembling different training methods to improve his dunking skills.
As you can see, jumping high has paid off for Jus Fly.
Here he is winning the Nike World Dunk Contest.
What's great about Vert Shock is that everything in the program is outlined in a simple and easy to understand way…
There's a workout for each day…
Every workout specifies exactly what you should do (reps, sets, rests, etc..)
And there's a video library containing all the exercises.
Plus, the quality of the videos is superb.
Adam does a tiptop job demonstrating the exercises and explaining how to execute each movement correctly.
In total, Vert Shock is an 8-week program split into three phases:
And although it might look short, boy this program is so damn effective that I actually recommend repeating it for best results.
I know I'm going to.
On to the 2nd place…
#2 The Jump Manual
Pros
Combines strength training & plyometrics.
Highly educational – tons of background knowledge on vertical jump science.
Extremely comprehensive.
Best for advanced jumpers who've plateaued with plyometrics.
Cons
Requires weights & equipment.
Highly time-consuming.
Not beginner friendly.
Results take longer.
Coming up at No. 2 on my list is the very program that this site was founded on and called after…
Yep, The Jump Manual by Coach Hiller.
I feel like I have to give it the credit it deserves, after all… I named my site after it.
And it's not without a reason…
The Jump Manual was the first program that managed to make me dunk, so I owe my success to it.
Big time!
Created by coach Jacob Hiller, The Jump Manual has been around since 2007 and has earned its place in the hall of fame.
What Makes This Program so Unique?
Well that's easy…
The Jump Manual is one of the only programs that brings a 'no stone unturned' approach to the training, and it does so better than any other program out there.
While most jump programs focus mainly on one area, Jump Manual focuses on EVERYTHING.
Got anything to do with vertical jumping? You bet The Jump Manual would target it.
In fact, it's got 9 different chapters dedicated to each of these factors, with key focus on the two most critical components of jumping…
Strength and Quickness.
So why is it that The Jump Manual is only #2 on this list and not #1?
Here's the thing…
The biggest problem with The Jump Manual is that it's simply too much for the average baller.
It's one of those rare cases where the quality of the product is just too good that it becomes its flaw.
While the program sure does work, it is very demanding in terms of time and effort, and takes longer to see results due to the nature of it.
And for most people who are in the beginner to intermediate stage, this approach is overkill and unnecessary.
Therefore, if you're just starting out or fairly new to vertical leap training, I DON'T recommend that you choose this program.
Stick to simpler programs like Vert Shock first, and save this one for later on to when you start to plateau.
Already an advanced leaper but can't quite get to that 40-inch vert?
Jump Manual is your next stop.
The program takes 3 months to complete and it's designed to make you jump higher in every possible way.
To this day, it has yielded results to thousands of athletes worldwide and has produced an army of 40-inch leapers such as yours truly.
#3 BoingVERT
Pros
In-depth philosophy.
Quality demonstration videos.
Slow & steady approach – best for non-active athletes and those recovering from an injury.
Cheap.
Cons
Too scattered.
Hard to follow.
Can't be done in-season.
Slow results.
Takes too long to complete (7 months!)
Occupying No. 3 on my list is BoingVert by Shawn Myszka and Kelly Baggett.
BoingVert is a 27-week plan that I just recently finished and, to be honest, I was impressed and disappointed with it at the same time.
On one hand, the program is SUPER comprehensive and covers a huge variety of exercises you could use to improve your vertical.
Seriously, it has a lot of potential for increasing your vertical jump, provided you have enough time to train with it.
However, there are many problems that make it unfit for most athletes, starting with the biggest one…
It's simply too long and too slow.
The program requires too much of your training budget, so much that you'll have to sacrifice 80% of your activities just to fit it in!
And considering how long it takes (27 weeks!), unless you're an amateur/weekend warrior, it's almost impossible to complete!
For most young fellas who have in-season games and play basketball regularly, this program is just not doable.
For that reason, BoingVert only gets the #3 spot on my list (sorry BV fans).
#4 Bounce Kit
Pros
Great strength training routine.
Great warm-up routine.
Sound principles.
Cons
Poor plyometrics routine.
Too much strength training.
Too complex.
No info on form/technique.
Incomplete.
Bounce kit is a program created by dunk celebrity Jordan Kilganon.
It's a 3-phase 3-month program comprised of core exercises, plyometrics and weight training.
The program has a good overall base and gets some of the pieces right, but it falls short in key areas, namely its bad structure and poor exercise selection.
The strength portion of the program is one of its strongest sides.
It has a solid weight training routine that definitely helps in increasing your lower body strength contributing to a higher vertical.
The plyometrics part of the program is another story tough.
There's hardly any diversity in the exercises and the selection is too basic to yield any meaningful results.
There's also no attention being given to stretching.
Overall, this program gets some of the things right, but it falls short in major areas.
The plyometric part, which is a key part in any jump program, is insufficient to say the least… there's too much strength training, and the program is simply incomplete.
Couple that with the fact that Bounce Kit can't be done in season and you get a program that doesn't fit most athletes most of the year.
This puts Bounce Kit at a lower rating against other vertical jump programs.
So now that we've gotten down our top vertical jump programs, let me explain in more detail why I chose these four.
My Jump Training Experience
Ever since I started playing basketball at the age of 12, I remember wanting to jump higher.
But my quest was not easy… it was full of ups and downs, and I constantly had to battle with injuries, bad programming, and myself to make it work.
Finding the right jump program was not an easy task though, it took me years of trial & error to sift out the good ones from all the bad ones
I can't tell you how much energy I spent on crappy programs that led to no gains and only wasted my time and hard earned money.
But over the years, I've gained enough knowledge to identify the ingredients needed to make a program work, and I've learned what principles a good program should have in order to be effective.
The problem with most vertical jump programs today is that they're all done under "perfect situations".
What do I mean by that?
Imagine you're in front of the basket and you're clear to do whatever you want with nobody trying to stop you.
That's a perfect situation!
Obviously, that's not how the game is played.
Rarely there's a case of a perfect situation when you're on the court.
For that reason, a lot of these jump programs fail to deliver, as they don't simulate in-game situations.
A 40-inch vertical doesn't really matter if you can't recreate it during a game.
You need to be able to jump whenever, wherever the time comes.
A good vertical jump training routine is designed in such way that it helps you jump higher in games AND improves your overall performance as an athlete.
It's not about you making a "dunk contest" with yourself on an unguarded basket.
It's super important that you'll understand this concept.
Mission: Jump Higher
So there you have it.
These are my top recommendations for anyone who's looking to gain serious inches on his vertical and jump higher.
These are all quality programs which I've tested personally and had only a positive outcome with.
Whichever program you choose, remember that at the end of the day, the most important thing is that you actually follow the program and stick to it.
Don't expect any overnight results and be realistic because, like all great things in life, it takes time and dedication to improve and reach your goals.
Keep that in mind when you choose any of the programs above.
Now go do some damage.
Last Updated on by Matthew Godley